It's back – not as strong this time but at 96% in Cairns still everyone is excited to see another tropical solar eclipse!
This Cairns Eclipse Page from Hot Air Balloon Cairns is back with some images of the partial solar eclipse of 10th May.
Mareeba on the Atherton Tablelands has some of the best ballooning weather in the World with releibaly clear skies and gentle winds, and so it proved for the fuill solar eclipse in November, we have our fingers crossed for the repeat on May 10th
Hot Airs' Eclipse Vimeo Video Channel still holds some great video of the November event
And the Facebook Page will likely hold some images from excited customers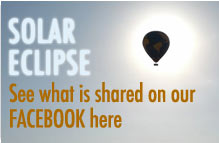 ?
See our Eclipse Image Gallery?
Note some of these images are of November 2012 Eclipse. New ones will be loaded during 10th May 2013
[[!Gallery? &album=`93` &plugin=`galleriffic` &imageWidth=`620` &imageHeight=`502` &gallerifficThumbTpl=gallerifficitemthumbself &gallerifficContainerTpl=gallerifficself &linkToImage=`1` ]]